Choose Your Hen Party Venue
London, Oxford, Cardiff & Nationwide
Glam Hatters' Hen Party Venue,
Exmouth Market, Central London

Our Exmouth Market (EC1 -very close to town!) venue is surrounded by individual cafes and boutiques and we are very close to Farringdon or Angel tube. It's well worth arriving early and having a little mooch around this lovely part of London before your hen party workshop starts. We have 2 different sized rooms and both are gorgeous.
Glam Hatters' Hen Party Venue, 
Kentish Town, London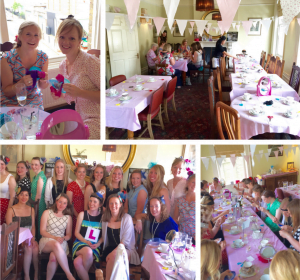 Our venue is very close to Kentish Town tube station (zone 2). Offering handy access to North London. This lovely venue is perfect for a hen party. The Upstairs Room at The Pineapple Pub is situated in a beautiful listed building. The Glam Hatters' candy striped table cloths, vintage china and bunting give it a super cute, tea room feel.
Glam Hatters' Hen Party Venue,
Cardiff Bay

Our Cardiff Bay venue is set inside an art gallery. Cardiff Bay is a 5 minute cab ride from Cardiff Central station or a 5 minute train ride. It's jam packed with restaurants, cafes and hotels. The perfect place for a stylish, super fun hen night. There is even a cafe in the gallery which serves gorgeous home made cakes and afternoon tea for £12.50pp.
Glam Hatters' Hen Party Venue, 
Penarth, Cardiff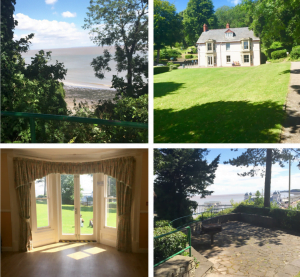 Nestled in front of dense woodland our venue looks out onto the Penarth pier, it's hard to imagine that you are only a 10 minute train ride from the centre of Cardiff and all it's bustling bars and super cool clubs. At this beautiful venue you can opt to enjoy a Glam Hatters' vintage afternoon tea during your workshop. We can throw open the French doors and you can picnic on the lawn or mosey down the garden to enjoy the fantastic views of the ocean.
Splinters' Restaurant, Christchurch, Dorset

Splinters Restaurant in Christchurch is a lovely, cosy venue close to the river. It has an upstairs room called The Blue Room where we hold Glam Hatters' workshops. Perfect for a relaxed hen party afternoon. They provide a gorgeous 2 course lunch at £30pp, making the venue hire free. Add a Glam Hatters' workshop and mix for a bubbly afternoon!
The Old School House, Lichfield, Staffordshire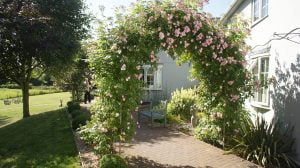 The Old School House on Church Hill in Lichfield is a fantastic venue for a crafty hen do. They have a lovely private room downstairs which hold up to 20 hens easily. Book in with them for Afternoon Tea at £17.95 and they will let you have the room for 4 hours. that gives you an hour for afternoon tea followed by either a one and a half or two and a half hour workshop with Glam Hatters. With our workshop prices starting at £38 per person you can enjoy a wonderful afternoon of cake and crafts for £55 per person.
The Organic Deli, Oxford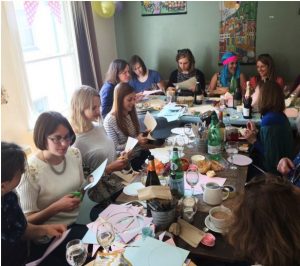 The Organic Deli in Oxford is a fantastic cafe and the perfect venue for a vintage hen party workshop. We use their upstairs room (28 steps up!!) which comfortably sits 18 hens. They provide a glorious afternoon tea using all organic and free range produce. You can even bring your own bubbly which they will keep chilled in their fridges. Add £12.75pp for afternoon tea to our workshop prices and you can make a fascinator whilst enjoying gorgeous food for under £50!!!
We Also Travel Nationwide.
We've hosted parties in cottages, bars, homes, village halls, artist's studios, restaurants, urban serviced apartments and on one occasion in a field! We've been doing this for a while and we come prepared, bringing candy striped table cloths and hat boxes full to bursting of gorgeous materials.
We will also research hen party venues for you where ever you are.
We have hosted a lot of Glam Hatters' Hen Parties so the chances are that we have already hosted one in your area and can help you with all your requirements.
So Far we have hosted hen parties in Avon, Bath, Bedfordshire, Berkshire, Buckinghamshire, Bristol, Brighton, Cardiff, Cambridge, Chelmsford, Cheshire, Chichester, Christchurch, Cumbria, Derbyshire, Durham, Essex, Gloucestershire, Harrogate, Hampshire, Huntingdon, Herefordshire, Hertfordshire, Kent, Lichfield, Nottingham, Oxford, Penarth, Peterborough, Manchester, Middlesex, Newcastle, Norfolk, Nottingham, Oxfordshire, Selsey, Shropshire, Somerset, Suffolk,  Sussex, & York.
Please feel free to call or email us for a chat about your hen party venue location and requirements and we will do the rest!