Hen party themes are a great way to bring your hen party together. Hens will bond over the theme and it's a great ice-breaker for family meeting friends for the first time. With that in mind here here are my Top Hen Party Themes For 2017/2018.
Black and White Hen Party Themes
This is such a sophisticated theme for a hen do. I was recently having dinner in The Mercury, Islington and a group of girls were having dinner there as part of their hen party. They were such a stylish group and everyone was dressed in black, apart from the bride who was wearing white.
A white top and skirt with a gorgeous little white swan fascinator. As well as looking super stylish it was a great way to make sure the bride stood out. Framed by all her friends in black she shone out from the crowd. I couldn't resist gate-crashing the party to take a pic (even though I felt like a crazy psycho stalker!) Sadly this is not the best picture I've ever taken. The lighting is quite low at The Mercury. And also it doesn't show the full table – there were about 25 of them in the group. But I wanted to use it as I just loved these girls…
Gatsby Hen Party Themes
We've had a fair few Gatsby themed hen party groups through our doors at Glam Hatters. It is a seriously glam theme and everyone always raises their game for the Gatsby! Think pearls, flapper dresses, tassels and sparkle. If your bride is creative and likes an activity then combine your theme with a Glam Hatters Gatsby Headband Making Workshop. Make a headband to match your outfit for the hen party and wear it out that night to a Gatsby themed dance. Check out The Candle Light Club for a perfectly riotous Gatsby themed hen night.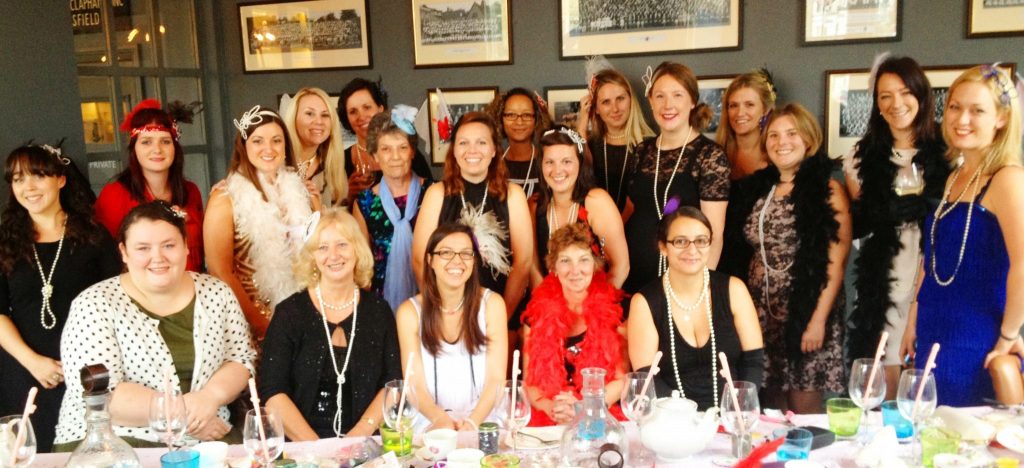 Vintage Hen Party Themes
My favourite theme! Vintage gives you so much scope but my era is the 50's. Myself and 8 friends went to All Star Lanes Bowling in Bloomsbury for my hen do. We bowled, drank and had dinner in their 50's style diner. From there we headed on to The Bethnal Green Working Man's Club for cabaret. They were a bit sniffy and not keen on hen parties so we convinced them that we always dressed that way and they happily let us in!
Masquerade Hen Party Themes
This hen party theme is trending in 2017. Mathew Williamson has designing masks for a Masquerade ball and the new 50 Shades Darker movie features a Masquerade Ball. The Glam Hatter Girls are teaching Mask Making Hen Party Workshops. These beautiful masks are pre-made before the workshop and all you have to do is decorate them. Use beads, crystals, faux flowers and feathers to create a highly sophisticated masquerade mask. The perfect thing to get you lots of attention on your hen night whilst keeping you incognito should you commit any misdemeanours!
Pirate Hen Party Themes
We recently had a Pirate Hen Party Theme at Glam Hatters. It was a surprisingly stylish affair! Think Breton tops and skinny jeans with high boots and eye patches! These girls were a scream and made gorgeous fascinators while enjoying a cream tea. They brought along mini cup cakes which were decorated in pirate style and we plated them on our vintage China cake stands! It sounds like a weird mix it it totally worked! These girls completely rocked their Pirate Hen Party Theme.
Boho Festival Hen Party Themes
Of lovely, lovely boho hen party theme – all you really need is a flower crown, a pair of wellies and a booking at a gorgeous glamping site! Combine all three with a Glamping weekend and The Glam Hatter Girls will come with hat boxes of faux flowers and crowns, all you need to remember is your wellies and a few bottles of Prosecco! Make a gorgeous flower crown in our hour and a half workshop session and then you can float around in it for the rest of the weekend. It is all about flowers for 2017 – they are everywhere and on everything right now.
So there it is guys, my hen party themes for 2017/2018. I can't wait to see your themes coming through our doors at Glam Hatters. For more info on our hen party workshops click here.
With Love & Laughter, Glam Hatter Girl xxx